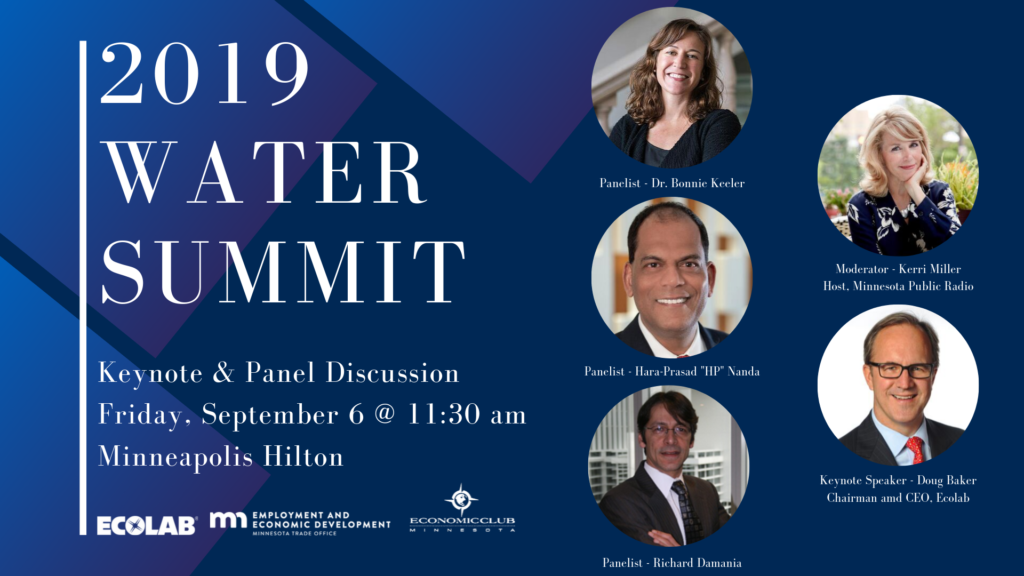 We kicked off our season on September 6 with a Water Summit featuring a keynote presentation by Doug Baker, Chairman and CEO of Ecolab, followed by an expert panel discussion moderated by Kerri Miller from Minnesota Public Radio. Panelists included Richard Damania, Senior Economic Advisor in the World Bank's Water Practice, Dr. Bonnie Keeler, Humphrey School of Public Affairs, University of Minnesota, and HP Nanda, Global Vice President and General Manager, Dupont Water Solutions.
Baker laid the groundwork for a compelling panel discussion regarding understanding the true cost of water and that we are at great risk of losing this finite resource.
Three takeaways from Doug's presentation:
water is an under-appreciated problem
water is undervalued
water is local
Not facing these issues puts all of us at risk and finding solutions to protecting and preserving water as a natural resource is cheaper long term than fixing it once it's a problem.
Our diverse audience of business leaders, young professionals, and students were engaged in the discussion. Doug challenged all attendees to think seriously about what their company or organization can do now to help protect our state of water worldwide. To learn more, watch the video, listen to the podcast or download the presentation below.