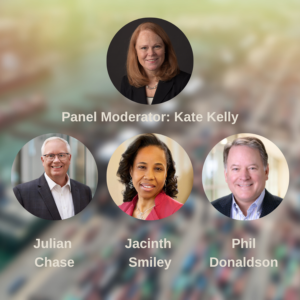 Supply Chain Panel Discussion
Where do we go from here?
Moderated by Kate Kelly, EVP & & Regional President, PNC Bank
Featuring:
Julian Chase, Business Operations and Supply Chain, Chief Transformation Officer, Cargill
Jacinth Smiley, EVP & CFO, Hormel Foods
Phil Donaldson, EVP & CFO, Andersen Corporation
Julian Chase is the head of Cargill's Business Operations and Supply Chain, leading a global team to provide a seamless approach to the way Cargill plans, sources, makes and delivers products and services to customers. In addition, Julian serves as Cargill's first-ever Chief Transformation Officer, responsible for building a culture of continuous improvement as the company transforms and integrates to become more customer-driven and meet the changing needs of the dynamic marketplace. He also oversees Cargill's Business Services.
Julian started his Cargill career as an intern at the Tilbury corn milling facility in England when he was only 20. Julian went on to work extensively in the U.S. and Europe, as well as in several global roles, where he has gained deep expertise in operations, supply chain, product line and P&L management. Previously, Julian led both commercial and functional areas within Cargill, including the global Starches, Sweeteners and Texturizers group with operations across North America, South America, Europe, the Middle East, Turkey and North Africa.
Julian holds a bachelor's degree in chemical engineering from the University of Surrey and an MBA from Cranfield, both in the UK. Julian resides in Minnetonka, Minnesota, with his wife and two daughters.
Jacinth Smiley is an accomplished Senior Finance Executive with 25+ years of global leadership and Finance experience across multiple industries with large multinationals and has worked throughout the USA, Europe, Middle East and Asia.  
Currently, as the Executive Vice President & Chief Financial Officer at Hormel Foods, Jacinth leads financial planning and analysis, financial reporting, corporate strategy, long-range planning, investor relations, treasury, tax, controllership and information technology. Jacinth serves on the board and audit committee of Donaldson Company. She is a graduate of the University of CT with a Bachelor of Science degree in accounting and is a Certified Public Accountant.
Phil Donaldson is Executive Vice President and Chief Financial Officer of Andersen Corporation, Bayport, Minnesota. Phil was named Chief Financial Officer in 2004 and serves as a member of the company's Executive Committee. Phil was elected to the Andersen Corporation Board of Directors in 2009. He also serves on the Board of Directors of the Andersen Corporate Foundation. Founded in 1903 and privately owned, Andersen Corporation is the leading maker of windows and doors for residential and commercial markets. Andersen operates 34 manufacturing and distribution locations in North America and Europe with over 13,000 employees. 
Phil also serves on several other boards, including:
– The HealthPartners, Inc. Board of Directors where he is vice chairman, chair of the Finance Committee, and serves on the Compensation and Leadership Development and Health Transformation Committees. 
– The Simpson Manufacturing Co., Inc. (NYSE: SSD) Board of Directors where he chairs the Audit and Finance Committee and serves on the Corporate Strategy and Acquisitions Committee. 
– The Harvard Joint Center for Housing Studies Policy Advisory Board.
Phil earned a Bachelor of Science degree from Northwestern University, Evanston, Illinois, and a Master of Business Administration degree from Northwestern University's Kellogg School of Management.  
Kate Kelly is executive vice president and regional president of PNC Bank, Minneapolis-St. Paul. Kelly is responsible for PNC's overall market expansion in Minnesota and leads a culture of teamwork, client advocacy and community leadership. Kelly has more than 30 years of experience in the banking industry. Prior to joining PNC in January 2017, she served as president and CEO of Minnesota Bank & Trust. 
Active in the community, Kelly is on the board of ServeMinnesota, where she was previously board chair, and received the 2018 Outstanding Commissioner national award. Kelly is also a board member with the Minnesota Orchestra Association, the Children's Theatre Company, the Science Museum of Minnesota, Ampact, and the Economic Club of Minnesota.
Video and podcast content not available.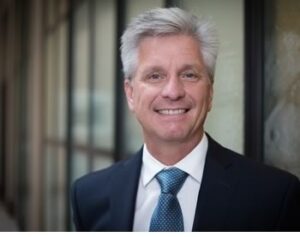 Dr. Christopher Waller is Member of the Board of Governors. He was confirmed in December 2020 and his term expires in 2030. Prior to joining the Board, he was Executive vice president and director of research at the Federal Reserve Bank of St. Louis from 2009 to 2020. He began his career at Indiana University-Bloomington from 1985-1998. He then moved to the University of Kentucky, where he served as the C. M. Gatton Chair of Monetary Economics. In 2003, he joined the University of Notre Dame as the Gilbert F. Schaefer Chair of Economics. His research focuses on monetary theory and has been published in a variety of top scholarly journals such as the American Economic Review and the Quarterly Journal of Economics. He earned a BA from Bemidji State University (1981) followed by an MA (1984) and a PhD (1985) in economics from Washington State University.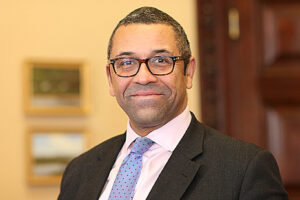 The Rt. Hon. James Cleverly, MP

James Cleverly was appointed Minister of State (Minister for Europe and North America) in the Foreign, Commonwealth & Development Office (FCDO) on 8 February 2022.
He was previously Minister for Middle East and North Africa at the FCDO. James was first appointed as a joint Minister of State in the Foreign & Commonwealth Office and the Department for International Development on 13 February 2020. He was first elected as the Conservative MP for Braintree in May 2015.
James was Minister without Portfolio from 24 July 2019 to 13 February 2020 and Parliamentary Under Secretary of State at the Department for Exiting the European Union from April 2019 to July 2019.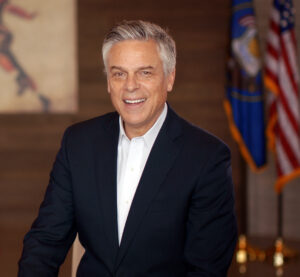 Ambassador Jon M. Huntsman, Jr.
Recipient of the 2021 Bill Frenzel Champion of Free Trade Award
Jon M. Huntsman Jr. was made Ford's Vice Chair, Policy, effective May 1, 2021. He serves as advisor to Jim Farley, Ford's President and CEO, and Executive Chair Bill Ford on strategic policy choices. Prior to joining Ford in that role, Huntsman was re-elected to the Ford board of directors in October 2020 after previously serving as a director from 2012 to 2017. He is a member of the board's sustainability and innovation committee. Huntsman was recently appointed to the Pentagon's Defense Policy Board.
Huntsman stepped down from his first tenure as a Ford director to become U.S. ambassador to Russia under President Donald J. Trump, a position in which he served for two years. He was U.S. ambassador to China from 2009 to 2011 in President Barack Obama's administration and ambassador to Singapore in the early 1990s under Presidents Bill Clinton and George H.W. Bush.
Huntsman's multiple federal trade assignments culminated in two years as deputy U.S. trade representative for President George W. Bush. Collectively, he has negotiated or brokered dozens of trade and investment agreements for the United States in Asia Pacific and Africa. His public career began as a White House staff assistant to President Ronald Reagan and included an appointment as deputy assistant secretary of commerce for Asia. In addition to his extensive federal roles, Huntsman was twice elected governor of the U.S. state of Utah. 
Prior to entering public service, Huntsman was an executive of Huntsman Corporation. He has been chairman of both the Huntsman Cancer Foundation and the Atlantic Council of the United States; a founding director of the Pacific Council on International Policy; a distinguished fellow at the Brookings Institution; and a trustee of both the Carnegie Endowment for International Peace and the Reagan Presidential Foundation. Huntsman is also a member of the board of directors of Chevron. Huntsman is a graduate of the University of Pennsylvania.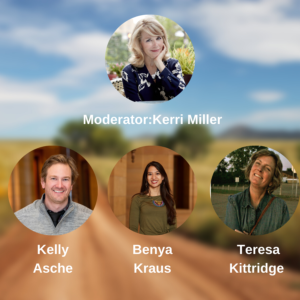 A conversation with experts thriving in rural America. 
Moderated by Kerri Miller, Journalist, Minnesota Public Radio
Featuring:
Kelly Asche, Research Associate, Center for Rural Policy and Development 
Benya Kraus, Founder & Executive Director, Lead for Minnesota 
Teresa Kittridge, Founder, 100 Rural Women
Kelly Asche: After receiving his Master's of Public Policy at the Humphrey School of Public Affairs, Kelly was hired as the Research Associate at the Center for Rural Policy and Development and moved to the best city in Minnesota, New London. Kelly's work at the Center for Rural Policy and Development is focused on data analysis, busting myths related to the rural narrative, and researching policy issues related to rural economic development, health care, and agriculture.
During his off time, you will likely find Kelly floating in his kayak, bicycling across rural Minnesota, gardening, spending time with his wife and cat, and generally shying away from places where there are large amounts of people.
Benya Kraus calls home a fusion of Waseca, MN and Bangkok, Thailand. Searching for a pathway back to serve in her rural hometown after graduating from Tufts University in 2018, she realized that little infrastructure and cultural narrative existed to bring young talent back to small towns, rural, and economically distressed urban communities – particularly to engage in public service. She went on to co-found Lead for America, a national nonprofit that supports young talent in returning to their hometowns through two-year paid fellowships with the mission of catalyzing community renewal and strengthening our public institutions.
Supported by the Bush, Blandin, and McKnight Foundations and ServeMN, Benya has returned home to Minnesota to launch Lead for Minnesota – the next state affiliate headquartered in her hometown of Waseca, where she supports homecomers across 30 rural communities in Minnesota, and over 200 nationwide. In addition to Lead for America, Benya served as the youngest member elected to the Amnesty USA Board of Directors, was appointed by Governor Walz and Lt. Governor Flanagan to the Minnesota Young Women's Cabinet and most recently the Governor's Workforce Development Board.
Teresa Kittridge, founder of 100 Rural Women, lives in Marcell Township in Northern Minnesota. She has spent much of her life serving rural people across the country, with a career that includes executive level leadership in the private, public and nonprofit sectors as well as serving in elected office. 100 Rural Women models her life's work, by serving women in rural places to inspire leadership, create connections, networks, support civic engagement and encourage leadership.
The first twenty years of her career were spent serving as an elected officer of the Minnesota House of Representatives. Following her time in the legislature, she built the Washington D.C. office of RUPRI (Rural Policy Research Institute) and served as Director of National Policy Programs. She has over a decade of experience in leading and building national and international businesses, as a publishing executive for Coughlan Companies and then as founder and president of MNREM (Minnesota Renewable Energy Marketplace) non profit. Kittridge returned to RUPRI in 2014 as Vice President and Chief Operating Officer. She is currently building the national non-partisan organization, 100 Rural Women.
Teresa is an active civic and community volunteer. She is an elected Trustee and Secretary of the Board for the Bigfork Valley Hospital Northern Itasca Hospital District, serves on Marcell Township Business Loan committee and on committees of Organisation for Economic Co-operation and Development (OECD) Rural Innovation. Kittridge served as Board Chair and on the Waconia School Board. She holds a M.A. in Organizational Leadership and a B.A. in Business Administration.
Panel Moderator: Kerri Miller, is a journalist at Minnesota Public Radio where she hosts a Friday show about books & reading titled, Talking Volumes. Kerri is also the founder of Siren Sojourns, which is book-centric adventure travel for women.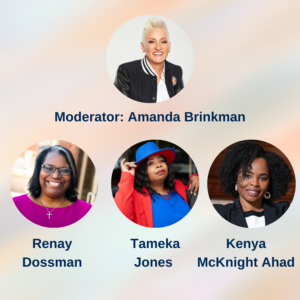 Small Business Diversity Summit
Moderated by Amanda Brinkman, Chief Brand Officer, Deluxe
Featuring:
Renay Dossman, President, Neighborhood Development Center 
Tameka Jones, Founder & CEO, Lip Esteem
Kenya McKnight Ahad, Founder, Black Women's Wealth Alliance
Amanda Brinkman is the Chief Brand Officer at Deluxe and creator, producer and host of the Emmy-nominated, hit series Small Business Revolution. Alongside celebrity entrepreneur Robert Herjavec, renovation icon Ty Pennington and NBA all-star turned entrepreneur Baron Davis, Brinkman showcases her love for small businesses by spearheading efforts to revitalize entire communities and providing makeovers to small businesses across America. Amanda is a nationally renowned brand expert, public speaker, and Forbes contributor. Her acclaimed career spans groundbreaking campaigns for brands like BMW, Reebok, and Sony, in addition to her role as an inspiring female executive at Fortune 500 and Fortune 1000 companies.
Renay Dossman, President, Neighborhood Development Center (and Community Leader in Lip Esteem's episode, representing Lake Street corridor and the economic opportunity and impact of this area). Neighborhood Development Center (NDC) is a non-profit, community development financial institution that provides integrated business services so that entrepreneurs can start and grow businesses that enrich their economic and social fabric.  
In addition, Renay is a Certified Professional and Executive Life Coach, and has been a business owner herself. Ms. Dossman was named a 2021 Person to Know by Twin Cities Business, was recognized as a 2021 Women in Business Awardee by the Minneapolis/St. Paul Business Journal, and is a member of the African American Alliance of CDFI CEOs. In addition, she serves on the Destination Northside Committee, and participates in the Anti-Racism and Economic Justice (AREJ) Trust located within the Center for Economic Inclusion. 
Tameka Jones, Founder and CEO of Lip Esteem (and featured small business owner in Season 6). Tameka Jones knows the impact a little bit of lipstick can make. It transforms. It raises heads up high. It turns a few heads, too. She knows this because she's seen it in her own life. And Tameka wants to spend her life helping others feel confident and beautiful. After honing her skills for twenty years as a makeup artist, Tameka took control of her destiny, launching Lip Esteem in July 2020— a complete line of plant-based lipstick to complement all skin tones. Starting out as a vendor at a local farmer's market along Lake Street, Tameka was amazed at the interest and support of the community, steadily growing her customer base and social media following.
Kenya McKnight Ahad, Founder, Black Women's Wealth Alliance (and Subject Matter Expert featured across several episodes in Season 6, as well as at the end of Lip Esteem's story). Black Women's Wealth Alliance is the first Black women-owned specific public benefit corporation in Minnesota. Since 2015, BWWA has served nearly 4,000 Black women and inspired the creation of over 200 Black women-owned businesses, and cultural wealth building education. BWWA has granted $490,000 to Black women, entrepreneurs, students, and career professionals. 
McKnight has garnered several awards and honors. She is a 2007 LISC Fellow, a 2012 Hubert H. Humphrey Policy Fellow, a 2012 Bush Fellow, a 2017 NorthStar Cooperative Fellow, and a 2019 Alafia Fellow. In 2019, she was dual honored as a Minneapolis & Saint Paul Business Journal "Top Woman in Business" and a Finance & Commerce "Top Woman in Finance." And was recently recognized by the Minnesota Black Chambers of Commerce as one of 100 top leading Black women in MN and recently recognized by Fearless Commerce magazine as a fierce Black woman business leader.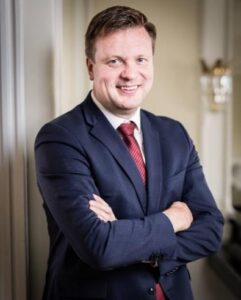 Before devoting his work to politics full time, Ville Skinnari has worked in various positions in the field of international trade, including developing Nokia's service business for the Asian and European markets and serving as the Business Development Director for the Koillismaa region. He has also run a small company of his own and worked as a specialist in international law. 
Sports have always played a major role in Ville Skinnari's life. He has played ice hockey as a junior and in the men's team until 1995 and continued to play while studying in the Netherlands and the UK. In his free time, he enjoys sports and culture in many forms as well as fishing. His wife is a Physical Education Instructor, and they have three children.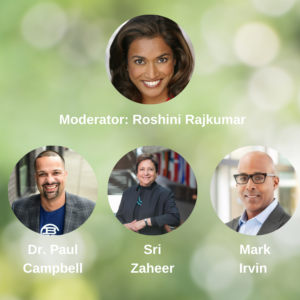 Walking the Talk of Diversity Investment

How local companies and educators are moving the dial
Moderated by Roshini Rajkumar, Executive Crisis Coach, Roshini Multi-Media
Featuring:
Dr. Paul Campbell, Co-founder & Managing Partner, Brown Venture Group, LLC
Sri Zaheer, Dean, Carlson School of Management, University of Minnesota
Mark Irvin, Chief Inclusion, Diversity and Talent Officer, Best Buy
Dr. Paul Campbell is a co-founder and managing partner at Brown Venture Group, LLC. Launched in 2018, Brown Venture Group, LLC is a venture capital firm exclusively for Black, Latino, and Indigenous technology startups and founders. Prior to launching Brown Venture Group, Dr. Campbell was a telecommunication sales executive as well as a serial entrepreneur, launching startups in IoT and media production. He was one of the Minneapolis/St. Paul Business Journals 2021 40 under 40 recipients. He holds a Doctorate in Social Entrepreneurship and an MBA in Global Business Management.
Mark Irvin is the chief inclusion, diversity, and talent officer for Best Buy Co. Inc. In this role, he is responsible for the company's strategy for creating and sustaining an inclusive work environment for its 100,000 employees. He also oversees all programs aimed at attracting, retaining, and growing diverse talent and perspectives.
Mark has spent most of his 30-year career in supply chain leadership. But he has always had a passion for people and development of leaders, dating back to his time as a captain in the U.S. Army. Mark has a bachelor's degree from Fisk University in Nashville and an MBA from Franklin University in Columbus, Ohio. He was commissioned through the ROTC program at Vanderbilt University and served in the U.S. Armed Forces for eight years in field medical logistics.
Srilata (Sri) Zaheer is Dean of the Carlson School of Management at the University of Minnesota, and currently chairs the Board of the Federal Reserve Bank of Minneapolis. During her tenure as dean, Sri launched a Military Veterans Initiative to help servicemen and women transition from military to business careers, resulting in the Carlson School being named the number one Military Friendly business school in the nation. Sri has increased the business community's engagement with the school, resulting in a wealth of new experiential learning opportunities for students, and has overseen the introduction of new degrees in business analytics, supply chain management, finance, and new programs in partnership with Tsinghua University in Beijing and Tongji University in Shanghai, as well as online degrees and certificates.
Prior to academia, Zaheer worked for multinationals such as Tata Consultancy Services and Sandoz (India) Ltd. She also reported on politics and business from India and Nigeria for Business International. These experiences have provided the foundation for her research in international business, as well as leading the Carlson School's engagement with the corporate community.
Roshini Rajkumar is a strategist and crisis coach to C-Suite executives, mainstage speaker, and multimedia content creator. She hosts REAL Talk with Roshini on WCCO Radio and Discover Minnesota with Roshini on Facebook.
Roshini is a licensed attorney and former TV reporter called upon by media across the US for commentary about crisis management, political strategy, leadership, and PR blunders. She's conducted thousands of interviews during nearly 25 years in broadcasting. Roshini is a legal analyst for Court TV; a political analyst for WJR Detroit and KNUS Denver; and a success coach for Twin Cities Live on KSTP-TV in Minneapolis. Her book, Communicate That! is in its third edition.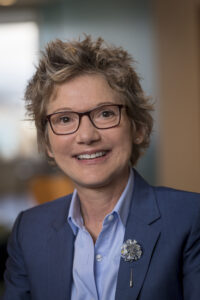 Mary C. Daly is the President and CEO of the Federal Reserve Bank of San Francisco. As a participant on the Federal Open Market Committee, she helps set American monetary policy that promotes a healthy and stable economy.
Since taking office in October 2018, Dr. Daly has committed to making the San Francisco Fed a more community-engaged bank that is transparent and responsive to the people it serves. She works to connect economic principles to real-world concerns and is a sought-after speaker on monetary policy, labor economics, and increasing diversity within the economics field.
Dr. Daly began her career with the San Francisco Fed in 1996 as an economist specializing in labor market dynamics and economic inequality. She went on to become the Bank's Executive Vice President and Director of Research. She currently serves on advisory boards for the Center for First-generation Student Success and the Maxwell School of Citizenship and Public Affairs at Syracuse University. She has also served on the advisory boards of the Congressional Budget Office, the Social Security Administration, the Office of Rehabilitation Research and Training, the Institute of Medicine, and the Library of Congress.
Dr. Daly earned a bachelor's degree from the University of Missouri-Kansas City, a master's degree from the University of Illinois Urbana-Champaign and a Ph.D. from Syracuse University. She also completed a National Institute of Aging post-doctoral fellowship at Northwestern University.
A native of Ballwin, Missouri, Dr. Daly now lives in Oakland, California, with her wife Shelly.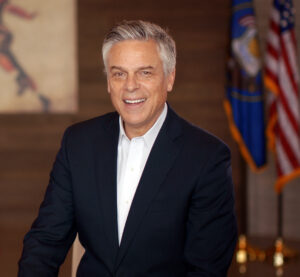 Ambassador Jon Huntsman, Jr.
Ambassador Huntsman began his career in public service as a staff assistant to President Ronald Reagan. He has served each of the five U.S. presidents since then in critical roles around the world, including as the Ambassador to Singapore, Deputy Assistant Secretary of Commerce for Asia, U.S. Trade Ambassador, U.S. Ambassador to China, and most recently, U.S. Ambassador to Russia. In all Senate confirmations, he received unanimous votes.
Twice elected governor of Utah, Governor Huntsman brought about strong economic and tax reforms, tripled the state's rainy-day fund, and helped bring unemployment rates to historic lows. Historically Huntsman was one of Utah's most popular governors, reaching approval ratings as high as 90 percent. During his tenure, Utah was named the best managed state in America and ranked number one in the nation in job growth. Recognized by others for his service, Governor Huntsman was elected as Chairman of the Western Governors Association, serving nineteen states throughout the region.
Ambassador Huntsman was a candidate for the Presidency in 2012 where he ultimately placed third in the New Hampshire primary before bowing out. Previously he served as Chairman of the Atlantic Council and on the boards of Ford Motor Company, Caterpillar Corporation, Chevron Corporation, Hilton, the U.S. Naval Academy Foundation, and the University of Pennsylvania. In addition, he served as a distinguished fellow at the Brookings Institute, a trustee of the Reagan Presidential Foundation, and Chairman of the Huntsman Cancer Foundation. Ambassador Huntsman has served as a visiting fellow at Harvard's John F. Kennedy School of Government, as well as a distinguished lecturer at Duke University's Sanford School of Public Policy. He was recently inducted into the American Academy of Diplomacy.
Huntsman is a seventh generation Utahn and has been married for 36 years to Mary Kaye Huntsman. Together they are the parents of seven children, including two adopted daughters from China and India. His two sons, both graduates of the U.S. Naval Academy, are active duty naval officers. Huntsman is a graduate of the University of Pennsylvania and has ten honorary doctoral degrees.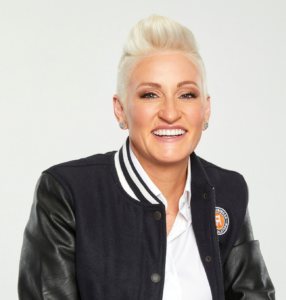 Amanda Brinkman, Chief Brand Officer at Deluxe, is a revolutionary brand marketer, passionate speaker and the creator, producer and co-host of the acclaimed "Small Business Revolution – Main Street" series on HULU and SmallBusinessRevolution.org.
Amanda's career started at top ad agencies Fallon, Cohn & Wolfe London and McCann with campaigns for over a dozen brands such as Virgin Mobile, Reebok, NYSE, Colgate-Palmolive, H&R Block and her favorite client of all time – BMW on breakthrough work like the BMW Films. She then carved out a niche as an "intrapreneur," cultivating creativity from the inside out at General Mills, Allianz and UHG. 
Amanda has served on the boards of the Children's Cancer Research Fund, Make-A-Wish, and currently serves on Children's Theatre Company, the Ordway, the Women's Business Development Center Chicago and the Association of National Advertisers.  She's a trusted media source and a sought-after speaker, sharing her belief that all brands can "Do Well By Doing Good," when they go beyond brand purpose and take meaningful brand action.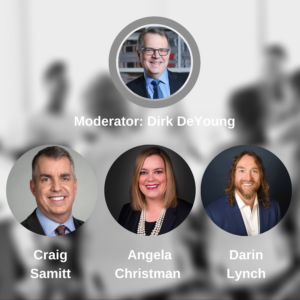 The Post-Pandemic Workplace. Has it changed forever?
Moderated by Dirk DeYoung, Editor, Minneapolis/St. Paul, Business Journal.
Featuring:
Craig Samitt, President & CEO, Blue Cross and Blue Shield of Minnesota
Angela Christman, Sr. Director, HR Strategy, Marvin
Darin Lynch, Founder & CEO of Irish Titan 
As president and chief executive officer of Blue Cross and Blue Shield of Minnesota, Dr. Craig E. Samitt oversees the state's first and largest health plan. An internal medicine physician by training, Dr. Samitt has worked across multiple health care sectors. His senior leadership experience includes serving as executive vice president at Anthem, Inc.; partner and global provider practice leader at Oliver Wyman; president and CEO of HealthCare Partners; and president and CEO of Dean Health System Inc., in Madison, Wisconsin.
Dr. Samitt holds an undergraduate degree from Tufts University, a medical degree from Columbia University and an MBA from the Wharton School of Business. He completed a residency in internal medicine at Brigham and Women's Hospital in Boston and is a fellow of the American College of Physicians.
Throughout a career spanning nearly two decades, Angela Christman has been driven by a bigger purpose – taking care of people and providing more fulfilling experiences for the team members she supports. In her current role as Senior Director, HR Strategy at Marvin, Angela leads teams focused on talent and the team member experience. A self-described "non-traditional" HR leader, Angela prioritizes people over policy, constantly imagining new ideas that help the people at Marvin enjoy happier, healthier living. Prior to joining Marvin in 2017, Angela held multiple leadership roles in Human Resources with Walmart, where she helped impact talent and engagement for associates across the business. Angela holds a B.A. in Psychology from Coe College and an M.A. in Industrial/Organizational Psychology from Minnesota State University, Mankato. When not at work, Angela enjoys reading, traveling with her husband and spoiling her two springer spaniels.
Darin Lynch is the Founder and CEO of Irish Titan, a digital agency focused on ecommerce & digital, design & creative, content & strategy. Darin offers over 25 years of digital, marketing, sales, technology and leadership experience ranging from Fortune 100 financial firms to national retailers to start-up and early stage companies. Darin has trademarked "Business First. Online Second.", as it's one of the key principles that shaping Irish Titan's "Why" for their over 40 Titans, hundreds of clients, and range of services provided by Irish Titan since 2004. Darin is a regular speaker and has been honored as a 40 Under 40 winner, one of the Real Power 50, and is a member of the Federal Reserve Board Small Business Council.
Dirk DeYoung is the editor of the Minneapolis/St. Paul Business Journal, the Twin Cities' premiere source of breaking local business news online every day, including morning and afternoon email editions, and deep business analysis and information in print weekly. DeYoung joined the Business Journal in 1995 and has been editor since 1999. Prior to that, he was a reporter for daily newspapers in Mason City, Iowa, and Fergus Falls, Minnesota. He has a B.A. in journalism from the University of Minnesota and lives in Minneapolis with his wife, Sarah, and they have two grown children, one still in college and the other just launching her career.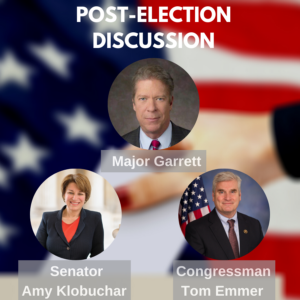 Moderated by Major Garrett.
Featuring:
Senator Amy Klobuchar 
Congressman Tom Emmer
U.S. Senator Amy Klobuchar is the first woman elected to represent the State of Minnesota in the United States Senate. Throughout her public service, Senator Klobuchar has always embraced the values she learned growing up in Minnesota. Senator Klobuchar has built a reputation of putting partisanship aside to help strengthen the economy and support families, workers and businesses. Since arriving in the Senate, Senator Klobuchar has worked with Democrats and Republicans to get things done. She led the effort to pass landmark pieces of legislation to end human trafficking and to combat the opioid epidemic. She fought to pass the most significant consumer product safety legislation in a generation, keeping foreign toxic products off our shores and out of our stores, and pushed the cell phone companies to enact more consumer-friendly policies.
Before serving in the Senate, Senator Klobuchar headed the largest prosecutor's office in Minnesota for eight years, making the prosecution of violent and career criminals her top priority. She led the effort for successful passage of Minnesota's first felony DWI law, and received the leadership award from Mothers Against Drunk Driving. Senator Klobuchar graduated magna cum laude from Yale University and the University of Chicago Law School. She is married to John Bessler, a native of Mankato, who attended Loyola High School and the University of Minnesota. Senator Klobuchar and John have a daughter, Abigail.
Congressman Tom Emmer was sworn in for his first term in the U.S. House of Representatives on January 6, 2015. He is currently serving his third term. Tom was recently elected by his fellow Republican colleagues to join the House GOP Leadership team as the Chairman of the National Republican Congressional Committee for the 116th Congress. Currently, he sits on the House Financial Services Committee. He is also a member of the Republican Deputy Whip Team and the House Republican Steering Committee.
Born in 1961, Tom grew up in Minnesota and attended St. Thomas Academy. He received his BA in Political Science from the University of Alaska-Fairbanks and his JD from William Mitchell College of Law. After practicing law for several years, he opened his own law firm. The next 20 years were spent balancing family, business, coaching hockey, and serving on the city councils in Independence and Delano. Before coming to Congress, he served in the Minnesota House of Representatives from 2004-2008. He and his wife Jacquie have been married over 30 years and have seven children. They reside in Delano.
Major Garrett was named CBS News' chief Washington correspondent in December 2018. As chief Washington correspondent, Garrett reports for all CBS News broadcasts and platforms. Garrett is also the host of "The Takeout," a weekly multi-platform interview show on politics, policy and pop culture available on CBSN, top radio stations across the country, and all podcast platforms. Garrett also debuted 'The Debrief' podcast in 2020 offering listeners original, deep-dive reporting and interviews on the main storylines of the moment, including the 2020 election, the COVID pandemic, and more. From 2012 until 2018, Garrett served as CBS News' chief White House correspondent.
Garrett is the author of four books: "Common Cents," with former Rep. Tim Penny (D-Minnesota) Little, Brown Publisher, 1995; "The 15 Biggest Lies in Politics," St. Martin's 1999; "The Enduring Revolution," Crown Forum 2005 and "Mr. Trump's Wild Ride," St. Martin's, 2018. Garrett graduated in 1984 from the University of Missouri with degrees in journalism and political science. A native of San Diego, California, he lives in Washington, D.C.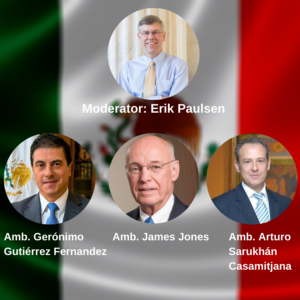 A presentation of the U.S. Mexico Foundation Convocation and panel discussion. Moderated by Erik Paulsen.
Featuring:
Ambassador Gerónimo Gutiérrez Fernandez
Ambassador James Jones
Ambassador Arturo Sarukhán Casamitjana
Ambassador Gerónimo Gutiérrez Fernandez was appointed Ambassador of Mexico to the United States from 2017 to 2018. Gutiérrez Fernandez served as Managing Director of the North American Development Bank (NADB) headquartered in San Antonio, Texas, where his professional activity was focused on infrastructure development and financing along the U.S.-Mexico border.
Ambassador James R. Jones served as ambassador to Mexico from 1993 to 1997. He is the Chairman of Monarch Global Strategies LLC. Ambassador Jones' consulting work currently focuses on business development and government relations for clients in Mexico and Latin America. He has provided strategic advice to a multinational automobile manufacturer based in Asia and helped facilitate its entry into the Mexican market.
Ambassador Arturo Sarukhán Casamitjana served as Ambassador to the United States from 2007 to 2013. He the founder and president of Sarukhan + Associates, a strategic consulting firm in Washington, D.C. He is an adjunct professor at the Elliott School of International Affairs at George Washington University and distinguished visiting professor at the Annenberg School of Public Diplomacy at the University of Southern California.
Congressman Erik Paulsen represented Minnesota's Third Congressional District from 2009 –2019. He served as a leading member on the chief tax writing House Ways and Means Committee, which has jurisdiction over health care, economic and trade policy. Erik also was the Chairman of the Joint Economic Committee, focusing on innovation, entrepreneurship, access to capital, digital trade and key economic issues, while working with the President's Council of Economic Advisors and Federal Reserve Board.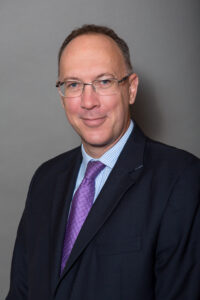 Commissioner Antony Phillipson
Antony Phillipson was appointed British Consul General in New York in November 2017. In February 2018, Antony was named Her Majesty's Trade Commissioner for North America (HMTC). As Consul General, Antony leads the Government's work promoting UK economic, commercial, political and consular interests in New York, Pennsylvania, New Jersey and Fairfield County, Connecticut. As HMTC Antony leads the work of the UK's Department for International Trade (DIT) driving forward the UK's wider economic and prosperity objectives in North America as the UK leaves the EU and prepares for future trade agreements with countries around the world.
Antony took up his roles as Consul General and HMTC at an important time, with the total UK-US trade in goods and services worth more than $200 billion annually and supporting more than a million jobs on each side of the Atlantic. The US and UK are each other's largest foreign direct investors and trading partners.
Antony has an extensive background in trade and investment promotion and policy, and brings unique experience and international insight to the role. Most recently, Antony was Director of Trade and Partnerships in the Department for Exiting the European Union. As a member of the senior leadership team he was at the heart of policy making on Brexit as well as having a specific focus on implications for our trade arrangements with the EU and third countries. That followed on from four years as High Commissioner to Singapore, one of the UK's most important prosperity partnerships in Asia.
Antony has held many high-ranking posts in Her Majesty's Government since joining the civil service in 1993. His previous positions include:
• Principal Private Secretary to the Secretary of State for Trade and Industry
• Global Issues Counselor at the Embassy in Washington
• Prime Minister's Private Secretary for Foreign Affairs
• Head of the FCO Iran Coordination Group
Antony has a degree in Modern History from the University of Oxford. He is married to Julie and they have three sons. In his spare time, Antony enjoys watching almost any sports, theatre and the arts.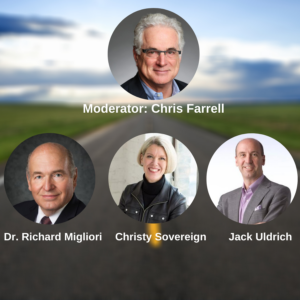 Webinar: The Future of Work & Business
Moderated by Chris Farrell, Senior Economics Contributor, Marketplace, American Public Media


Featuring:
Dr. Richard Migliori

,

EVP & Chief Medical Officer, UnitedHealth Group

Christy Sovereign

,

Senior Managing Director, Accenture

Jack Uldrich

, Global Futurist, The School of Unlearning
Dr. Richard Migliori was appointed executive vice president of medical affairs and chief medical officer of UnitedHealth Group in 2013, working with businesses across the enterprise to help improve health care quality, access and affordability. During his leadership at UnitedHealth Group, Dr. Migliori has spearheaded the design, organization and management of national health care delivery networks. He has been appointed as a member of Governor Dayton's Governor's Committee at the University of Minnesota's Medical School.
Christy Sovereign is the Office Managing Director for Accenture's Minneapolis/St. Paul location, where she is responsible for bringing innovation to Twin Cities' clients across twelve industries and Accenture's portfolio of businesses, attracting top talent, and strengthening Accenture's impact on the local community. Since joining Accenture 30 years ago, Christy has built a reputation as a trusted and strategic client advisor. Christy is on the Consulting Enterprise Board of Advisors for the University of Minnesota, Carlson School of Management.

Jack Uldrich is a leading futurist, author, and speaker who helps organizations gain the critical foresight they need to create a successful future. His work is based on the transformational principles of unlearning–or freeing yourself from obsolete knowledge and assumptions–as a strategy to survive and thrive in an era of unparalleled change. He regularly makes television appearances on the Science Channel, Discovery Channel and is a frequent guest on major media outlets, including CNN, CNBC and National Public Radio.

Chris Farrell is senior economics contributor at Marketplace, American Public Media's nationally syndicated public radio business and economic programs and at Minnesota Public Radio. He is host for APM/MPR's forthcoming podcast series, small change: Money Stories from the Neighborhood. An award-winning journalist, Chris is a columnist for PBS Next Avenue and the Star Tribune. He has written for Bloomberg Businessweek, New York Times, Kiplinger's and other publications. His most recent book is Purpose and a Paycheck.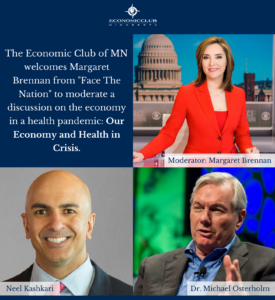 Webinar: Our Economy and Health in Crisis
Moderated by Margaret Brennan, Moderator of CBS News; "Face the Nation"




Featuring:
Neel Kashkari

,

President & CEO, Federal Reserve Bank of Minneapolis

Dr. Michael Osterholm

, Director, Center for Infectious Disease Research and Policy (CIDRAP)
Neel Kashkari took office as president and chief executive officer of the Federal Reserve Bank of Minneapolis on January 1, 2016, following a national search conducted by the Bank's independent board of directors.
In this role, he serves on the Federal Open Market Committee, bringing the Ninth District's perspective to monetary policy discussions in Washington, D.C. In addition to his responsibilities as a monetary policymaker, Kashkari oversees all operations of the bank, including supervision and regulation, treasury services and payments services. He has also been instrumental in establishing the Opportunity & Inclusive Growth Institute to promote greater economic equity.
Committed to increasing transparency at the Fed, Kashkari has published in the Wall Street Journal, Washington Post , Financial Times, and is active on Twitter and Instagram. He also serves on the board of the Economic Club of Minnesota and as a member of the Aspen Economic Strategy Group.
Dr. Michael Osterholm is Regents Professor, McKnight Presidential Endowed Chair in Public Health, the director of the Center for Infectious Disease Research and Policy (CIDRAP), Distinguished Teaching Professor in the Division of Environmental Health Sciences, School of Public Health, a professor in the Technological Leadership Institute, College of Science and Engineering, and an adjunct professor in the Medical School, all at the University of Minnesota. From June 2018 through May 2019, he served as a Science Envoy for Health Security on behalf of the US Department of State. He is also on the Board of Regents at Luther College in Decorah, Iowa.
He is the author of the 2017 book, Deadliest Enemy: Our War Against Killer Germs, in which he not only details the most pressing infectious disease threats of our day but lays out a nine-point strategy on how to address them, with preventing a global flu pandemic at the top of the list.
Video and podcast content not available