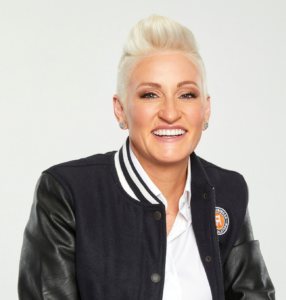 Amanda Brinkman, Chief Brand Officer at Deluxe, is a revolutionary brand marketer, passionate speaker and the creator, producer and co-host of the acclaimed "Small Business Revolution – Main Street" series on HULU and SmallBusinessRevolution.org.
Amanda's career started at top ad agencies Fallon, Cohn & Wolfe London and McCann with campaigns for over a dozen brands such as Virgin Mobile, Reebok, NYSE, Colgate-Palmolive, H&R Block and her favorite client of all time – BMW on breakthrough work like the BMW Films. She then carved out a niche as an "intrapreneur," cultivating creativity from the inside out at General Mills, Allianz and UHG. 
Amanda has served on the boards of the Children's Cancer Research Fund, Make-A-Wish, and currently serves on Children's Theatre Company, the Ordway, the Women's Business Development Center Chicago and the Association of National Advertisers.  She's a trusted media source and a sought-after speaker, sharing her belief that all brands can "Do Well By Doing Good," when they go beyond brand purpose and take meaningful brand action.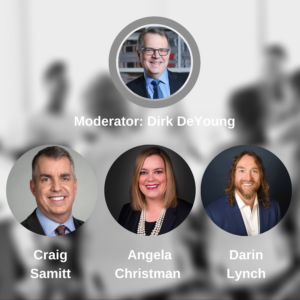 The Post-Pandemic Workplace. Has it changed forever?
Moderated by Dirk DeYoung, Editor, Minneapolis/St. Paul, Business Journal.
Featuring:
Craig Samitt, President & CEO, Blue Cross and Blue Shield of Minnesota
Angela Christman, Sr. Director, HR Strategy, Marvin
Darin Lynch, Founder & CEO of Irish Titan 
As president and chief executive officer of Blue Cross and Blue Shield of Minnesota, Dr. Craig E. Samitt oversees the state's first and largest health plan. An internal medicine physician by training, Dr. Samitt has worked across multiple health care sectors. His senior leadership experience includes serving as executive vice president at Anthem, Inc.; partner and global provider practice leader at Oliver Wyman; president and CEO of HealthCare Partners; and president and CEO of Dean Health System Inc., in Madison, Wisconsin.
Dr. Samitt holds an undergraduate degree from Tufts University, a medical degree from Columbia University and an MBA from the Wharton School of Business. He completed a residency in internal medicine at Brigham and Women's Hospital in Boston and is a fellow of the American College of Physicians.
Throughout a career spanning nearly two decades, Angela Christman has been driven by a bigger purpose – taking care of people and providing more fulfilling experiences for the team members she supports. In her current role as Senior Director, HR Strategy at Marvin, Angela leads teams focused on talent and the team member experience. A self-described "non-traditional" HR leader, Angela prioritizes people over policy, constantly imagining new ideas that help the people at Marvin enjoy happier, healthier living. Prior to joining Marvin in 2017, Angela held multiple leadership roles in Human Resources with Walmart, where she helped impact talent and engagement for associates across the business. Angela holds a B.A. in Psychology from Coe College and an M.A. in Industrial/Organizational Psychology from Minnesota State University, Mankato. When not at work, Angela enjoys reading, traveling with her husband and spoiling her two springer spaniels.
Darin Lynch is the Founder and CEO of Irish Titan, a digital agency focused on ecommerce & digital, design & creative, content & strategy. Darin offers over 25 years of digital, marketing, sales, technology and leadership experience ranging from Fortune 100 financial firms to national retailers to start-up and early stage companies. Darin has trademarked "Business First. Online Second.", as it's one of the key principles that shaping Irish Titan's "Why" for their over 40 Titans, hundreds of clients, and range of services provided by Irish Titan since 2004. Darin is a regular speaker and has been honored as a 40 Under 40 winner, one of the Real Power 50, and is a member of the Federal Reserve Board Small Business Council.
Dirk DeYoung is the editor of the Minneapolis/St. Paul Business Journal, the Twin Cities' premiere source of breaking local business news online every day, including morning and afternoon email editions, and deep business analysis and information in print weekly. DeYoung joined the Business Journal in 1995 and has been editor since 1999. Prior to that, he was a reporter for daily newspapers in Mason City, Iowa, and Fergus Falls, Minnesota. He has a B.A. in journalism from the University of Minnesota and lives in Minneapolis with his wife, Sarah, and they have two grown children, one still in college and the other just launching her career.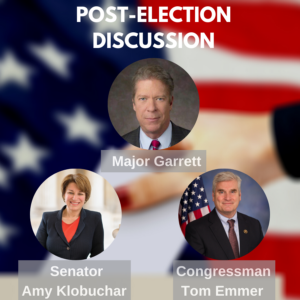 Moderated by Major Garrett.
Featuring:
Senator Amy Klobuchar 
Congressman Tom Emmer
U.S. Senator Amy Klobuchar is the first woman elected to represent the State of Minnesota in the United States Senate. Throughout her public service, Senator Klobuchar has always embraced the values she learned growing up in Minnesota. Senator Klobuchar has built a reputation of putting partisanship aside to help strengthen the economy and support families, workers and businesses. Since arriving in the Senate, Senator Klobuchar has worked with Democrats and Republicans to get things done. She led the effort to pass landmark pieces of legislation to end human trafficking and to combat the opioid epidemic. She fought to pass the most significant consumer product safety legislation in a generation, keeping foreign toxic products off our shores and out of our stores, and pushed the cell phone companies to enact more consumer-friendly policies.
Before serving in the Senate, Senator Klobuchar headed the largest prosecutor's office in Minnesota for eight years, making the prosecution of violent and career criminals her top priority. She led the effort for successful passage of Minnesota's first felony DWI law, and received the leadership award from Mothers Against Drunk Driving. Senator Klobuchar graduated magna cum laude from Yale University and the University of Chicago Law School. She is married to John Bessler, a native of Mankato, who attended Loyola High School and the University of Minnesota. Senator Klobuchar and John have a daughter, Abigail.
Congressman Tom Emmer was sworn in for his first term in the U.S. House of Representatives on January 6, 2015. He is currently serving his third term. Tom was recently elected by his fellow Republican colleagues to join the House GOP Leadership team as the Chairman of the National Republican Congressional Committee for the 116th Congress. Currently, he sits on the House Financial Services Committee. He is also a member of the Republican Deputy Whip Team and the House Republican Steering Committee.
Born in 1961, Tom grew up in Minnesota and attended St. Thomas Academy. He received his BA in Political Science from the University of Alaska-Fairbanks and his JD from William Mitchell College of Law. After practicing law for several years, he opened his own law firm. The next 20 years were spent balancing family, business, coaching hockey, and serving on the city councils in Independence and Delano. Before coming to Congress, he served in the Minnesota House of Representatives from 2004-2008. He and his wife Jacquie have been married over 30 years and have seven children. They reside in Delano.
Major Garrett was named CBS News' chief Washington correspondent in December 2018. As chief Washington correspondent, Garrett reports for all CBS News broadcasts and platforms. Garrett is also the host of "The Takeout," a weekly multi-platform interview show on politics, policy and pop culture available on CBSN, top radio stations across the country, and all podcast platforms. Garrett also debuted 'The Debrief' podcast in 2020 offering listeners original, deep-dive reporting and interviews on the main storylines of the moment, including the 2020 election, the COVID pandemic, and more. From 2012 until 2018, Garrett served as CBS News' chief White House correspondent.
Garrett is the author of four books: "Common Cents," with former Rep. Tim Penny (D-Minnesota) Little, Brown Publisher, 1995; "The 15 Biggest Lies in Politics," St. Martin's 1999; "The Enduring Revolution," Crown Forum 2005 and "Mr. Trump's Wild Ride," St. Martin's, 2018. Garrett graduated in 1984 from the University of Missouri with degrees in journalism and political science. A native of San Diego, California, he lives in Washington, D.C.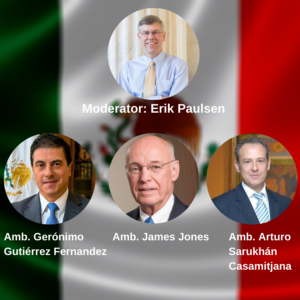 A presentation of the U.S. Mexico Foundation Convocation and panel discussion. Moderated by Erik Paulsen.
Featuring:
Ambassador Gerónimo Gutiérrez Fernandez
Ambassador James Jones
Ambassador Arturo Sarukhán Casamitjana
Ambassador Gerónimo Gutiérrez Fernandez was appointed Ambassador of Mexico to the United States from 2017 to 2018. Gutiérrez Fernandez served as Managing Director of the North American Development Bank (NADB) headquartered in San Antonio, Texas, where his professional activity was focused on infrastructure development and financing along the U.S.-Mexico border.
Ambassador James R. Jones served as ambassador to Mexico from 1993 to 1997. He is the Chairman of Monarch Global Strategies LLC. Ambassador Jones' consulting work currently focuses on business development and government relations for clients in Mexico and Latin America. He has provided strategic advice to a multinational automobile manufacturer based in Asia and helped facilitate its entry into the Mexican market.
Ambassador Arturo Sarukhán Casamitjana served as Ambassador to the United States from 2007 to 2013. He the founder and president of Sarukhan + Associates, a strategic consulting firm in Washington, D.C. He is an adjunct professor at the Elliott School of International Affairs at George Washington University and distinguished visiting professor at the Annenberg School of Public Diplomacy at the University of Southern California.
Congressman Erik Paulsen represented Minnesota's Third Congressional District from 2009 –2019. He served as a leading member on the chief tax writing House Ways and Means Committee, which has jurisdiction over health care, economic and trade policy. Erik also was the Chairman of the Joint Economic Committee, focusing on innovation, entrepreneurship, access to capital, digital trade and key economic issues, while working with the President's Council of Economic Advisors and Federal Reserve Board.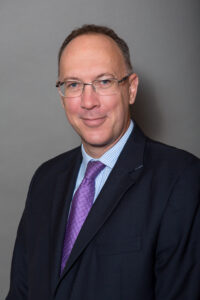 Commissioner Antony Phillipson
Antony Phillipson was appointed British Consul General in New York in November 2017. In February 2018, Antony was named Her Majesty's Trade Commissioner for North America (HMTC). As Consul General, Antony leads the Government's work promoting UK economic, commercial, political and consular interests in New York, Pennsylvania, New Jersey and Fairfield County, Connecticut. As HMTC Antony leads the work of the UK's Department for International Trade (DIT) driving forward the UK's wider economic and prosperity objectives in North America as the UK leaves the EU and prepares for future trade agreements with countries around the world.
Antony took up his roles as Consul General and HMTC at an important time, with the total UK-US trade in goods and services worth more than $200 billion annually and supporting more than a million jobs on each side of the Atlantic. The US and UK are each other's largest foreign direct investors and trading partners.
Antony has an extensive background in trade and investment promotion and policy, and brings unique experience and international insight to the role. Most recently, Antony was Director of Trade and Partnerships in the Department for Exiting the European Union. As a member of the senior leadership team he was at the heart of policy making on Brexit as well as having a specific focus on implications for our trade arrangements with the EU and third countries. That followed on from four years as High Commissioner to Singapore, one of the UK's most important prosperity partnerships in Asia.
Antony has held many high-ranking posts in Her Majesty's Government since joining the civil service in 1993. His previous positions include:
• Principal Private Secretary to the Secretary of State for Trade and Industry
• Global Issues Counselor at the Embassy in Washington
• Prime Minister's Private Secretary for Foreign Affairs
• Head of the FCO Iran Coordination Group
Antony has a degree in Modern History from the University of Oxford. He is married to Julie and they have three sons. In his spare time, Antony enjoys watching almost any sports, theatre and the arts.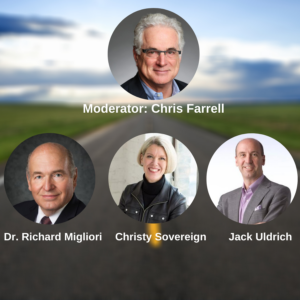 Webinar: The Future of Work & Business
Moderated by Chris Farrell, Senior Economics Contributor, Marketplace, American Public Media


Featuring:
Dr. Richard Migliori

,

EVP & Chief Medical Officer, UnitedHealth Group

Christy Sovereign

,

Senior Managing Director, Accenture

Jack Uldrich

, Global Futurist, The School of Unlearning
Dr. Richard Migliori was appointed executive vice president of medical affairs and chief medical officer of UnitedHealth Group in 2013, working with businesses across the enterprise to help improve health care quality, access and affordability. During his leadership at UnitedHealth Group, Dr. Migliori has spearheaded the design, organization and management of national health care delivery networks. He has been appointed as a member of Governor Dayton's Governor's Committee at the University of Minnesota's Medical School.
Christy Sovereign is the Office Managing Director for Accenture's Minneapolis/St. Paul location, where she is responsible for bringing innovation to Twin Cities' clients across twelve industries and Accenture's portfolio of businesses, attracting top talent, and strengthening Accenture's impact on the local community. Since joining Accenture 30 years ago, Christy has built a reputation as a trusted and strategic client advisor. Christy is on the Consulting Enterprise Board of Advisors for the University of Minnesota, Carlson School of Management.

Jack Uldrich is a leading futurist, author, and speaker who helps organizations gain the critical foresight they need to create a successful future. His work is based on the transformational principles of unlearning–or freeing yourself from obsolete knowledge and assumptions–as a strategy to survive and thrive in an era of unparalleled change. He regularly makes television appearances on the Science Channel, Discovery Channel and is a frequent guest on major media outlets, including CNN, CNBC and National Public Radio.

Chris Farrell is senior economics contributor at Marketplace, American Public Media's nationally syndicated public radio business and economic programs and at Minnesota Public Radio. He is host for APM/MPR's forthcoming podcast series, small change: Money Stories from the Neighborhood. An award-winning journalist, Chris is a columnist for PBS Next Avenue and the Star Tribune. He has written for Bloomberg Businessweek, New York Times, Kiplinger's and other publications. His most recent book is Purpose and a Paycheck.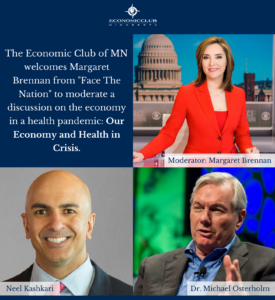 Webinar: Our Economy and Health in Crisis
Moderated by Margaret Brennan, Moderator of CBS News; "Face the Nation"




Featuring:
Neel Kashkari

,

President & CEO, Federal Reserve Bank of Minneapolis

Dr. Michael Osterholm

, Director, Center for Infectious Disease Research and Policy (CIDRAP)
Neel Kashkari took office as president and chief executive officer of the Federal Reserve Bank of Minneapolis on January 1, 2016, following a national search conducted by the Bank's independent board of directors.
In this role, he serves on the Federal Open Market Committee, bringing the Ninth District's perspective to monetary policy discussions in Washington, D.C. In addition to his responsibilities as a monetary policymaker, Kashkari oversees all operations of the bank, including supervision and regulation, treasury services and payments services. He has also been instrumental in establishing the Opportunity & Inclusive Growth Institute to promote greater economic equity.
Committed to increasing transparency at the Fed, Kashkari has published in the Wall Street Journal, Washington Post , Financial Times, and is active on Twitter and Instagram. He also serves on the board of the Economic Club of Minnesota and as a member of the Aspen Economic Strategy Group.
Dr. Michael Osterholm is Regents Professor, McKnight Presidential Endowed Chair in Public Health, the director of the Center for Infectious Disease Research and Policy (CIDRAP), Distinguished Teaching Professor in the Division of Environmental Health Sciences, School of Public Health, a professor in the Technological Leadership Institute, College of Science and Engineering, and an adjunct professor in the Medical School, all at the University of Minnesota. From June 2018 through May 2019, he served as a Science Envoy for Health Security on behalf of the US Department of State. He is also on the Board of Regents at Luther College in Decorah, Iowa.
He is the author of the 2017 book, Deadliest Enemy: Our War Against Killer Germs, in which he not only details the most pressing infectious disease threats of our day but lays out a nine-point strategy on how to address them, with preventing a global flu pandemic at the top of the list.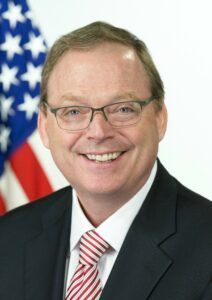 Kevin Hassett is currently Vice President and Managing Director of the Lindsey Group, a Distinguished Visiting Fellow at the Hoover Institution and a CNN Economics Commentator. In June 2019, he left the White House where he served as the 29th Chair of the Council of Economic Advisers.
Kevin previously served as research director at the American Enterprise Institute, as a senior economist at the Federal Reserve, and as a faculty member at Columbia University. Hassett was a senior adviser on Mitt Romney's 2012 campaign, and prior to that served as John McCain's chief economic adviser in the 2000 presidential primaries and an economic adviser to the campaigns of George W. Bush in the 2004 presidential election and McCain in the presidential election of 2008.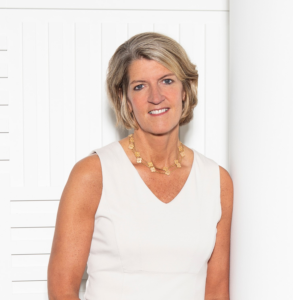 Beth Ford serves as President and CEO of Land O'Lakes, Inc., a Fortune 200 food production and agribusiness company that is also a nearly 100-year-old farmer-owned cooperative. Beth's 33-year career spans six industries at seven companies. Since joining Land O'Lakes in 2011, she has held a variety of roles leading the farmer-to-fork business offerings. Today, she is a passionate advocate on behalf of farmers and rural America with the goal of connecting people, particularly in urban areas, to the farmers and rural communities who grow their food.
A native of Sioux City, Iowa, Beth holds a bachelor's degree from Iowa State University and a master's degree in business from Columbia University Business School. She also sits on the Board of Directors for the Fortune 150 company PACCAR, Inc., and numerous other industry, non-profit and university boards.
Beth has recently been recognized by Fortune as one of the World's 50 Greatest Leaders and Most Powerful Women, was named to Fast Company's Most Productive People and Best Leaders lists, and was named one of Time magazine's "Firsts," among other honors.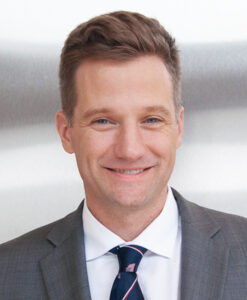 As commissioner of the state's principal workforce and economic development agency, Commissioner Grove brings a wealth of private sector and civic experience to the Department of Employment and Economic Development. Originally from Northfield, Minnesota, Commissioner Grove is focused on growing the state's workforce, closing the opportunity gap and providing businesses with the help they need to grow, stay and thrive.
Commissioner Grove was previously an executive at Google for 12 years, most recently serving as the founding director of Google's News Lab, a global division of the company that partners with media companies and startups to drive innovation in the news industry. He has built teams in over a dozen countries and launched partnerships in over 50 countries, including a global technology training effort that trained over 500,000 people every year. Grove also led Google's civic engagement work, including the company's non-partisan voter information and get-out-the-vote outreach efforts. He previously led YouTube's first news and politics team, building a global partnership effort for political candidates, news organizations, nonprofits, and citizen journalists. The divisions of Google that Grove led during his career addressed a wide range of public challenges with new solutions: from fighting online disinformation campaigns, to growing social media citizen engagement with world leaders, to a developing a broad range of voter turnout initiatives.
Grove wrote for The Boston Globe and ABC News prior to joining Google. He has served as an advisor to the White House and State Department on counter-terrorism strategy, and serves on the advisory boards of Witness, a video human rights nonprofit, and Report for America, a nationwide service organization to improve local news.
Commissioner Grove holds a master's in public policy from the Harvard Kennedy School and a B.A. in philosophy, politics, and economics from Claremont McKenna College. He is an International Security Fellow at the New America Foundation, and co-founded a nonprofit with his wife Mary called Silicon North Stars, which helps youth from underserved communities in Minnesota pursue careers in technology. In 2018, the Groves moved from Silicon Valley to Minneapolis, Minnesota with their two-year-old twins.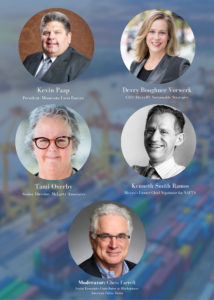 Free Trade Panel Discussion
Moderated by Chris Farrell, Senior Economics Contributor, Marketplace, American Public Media
Expert Trade Panel:
Devry Boughner Vorwerk, CEO, DevryBV Sustainable Strategies
Tami Overby, Senior Director, McLarty Associates
Kevin Paap, President, Minnesota Farm Bureau
Kenneth Smith Ramos, Mexico's Former Chief Negotiator for NAFTA; Partner at AGON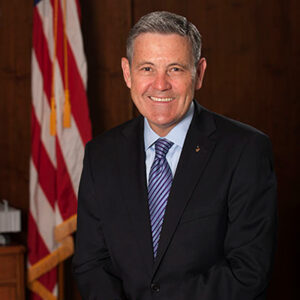 Robert D. Cabana is a former NASA astronaut, currently serving as director of NASA's John F. Kennedy Space Center in Florida. In his current role, Cabana manages all NASA facilities and activities at the spaceport, including the team of civil service and contractor employees who operate and support numerous space programs and projects. Born in Minneapolis, Minnesota, Cabana graduated from the U. S. Naval Academy in 1971 with a bachelor's degree in mathematics. He was commissioned a second lieutenant in the U.S. Marine Corps and completed Naval Flight Officer training in Pensacola in 1972. Cabana then served as an A-6 bombardier/navigator with Marine Air Wings in Cherry Point, North Carolina, and Iwakuni, Japan.
Returning to Pensacola in 1975, Cabana began pilot training and was designated a naval aviator in September of 1976, earning the Daughters of the American Revolution award as the top Marine to complete flight training that year. He graduated with distinction from the U.S. Naval Test Pilot School in 1981 and served in the Flight Systems Branch at the Naval Air Test Center until 1984. During his career, Cabana has logged over 7,000 hours in 50 different kinds of aircraft. Cabana was selected as an astronaut candidate in June 1985 and completed his initial astronaut training in July 1986. He was assigned to the Lyndon B. Johnson Space Center Astronaut Office, serving in a number of leadership positions, including lead astronaut in the Shuttle Avionics Integration Laboratory; Mission Control Spacecraft Communicator, famously known as CAPCOM; and chief of NASA's Astronaut Office.
A veteran of four spaceflights, Cabana has logged 38 days in space, serving as the pilot on STS-41 and STS-53 and mission commander on STS-65 and STS-88. His fourth flight was the first assembly mission of the International Space Station in December of 1998. Following his retirement as a colonel from the Marine Corps in September 2000, Cabana was appointed a member of the Federal Senior Executive Service. He served in numerous, challenging senior management positions at Johnson Space Center in Houston, ultimately becoming deputy director. In October 2007, Cabana was appointed director of NASA's John C. Stennis Space Center in Mississippi. A year later he was reassigned as the tenth director of the John F. Kennedy Space Center.
Cabana's many achievements have been recognized with induction into the Astronaut Hall of Fame and being named an Associate Fellow in the American Institute of Aeronautics and Astronautics and a Fellow in the Society of Experimental Test Pilots. He has received numerous personal awards and decorations, including the Distinguished Flying Cross, the Presidential Distinguished Rank Award, and the National Space Club Florida Committee's Dr. Kurt H. Debus Award.  He also is a recipient of the Rotary National Award for Space Achievement's National Space Trophy.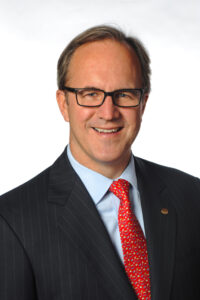 Doug Baker is chairman of the board and chief executive officer of Ecolab Inc., the global leader in water, hygiene and energy technologies and services that protect people and vital resources.
Ecolab recently ranked #2 on Newsweek's annual Green Rankings list, #8 on Corporate Responsibility's list of Best Corporate Citizens and #26 on Barron'slist of Most Sustainable Companies. The company regularly appears on Fortune's list of the World's Most Admired Companies and has been named to Ethisphere's list of the World's Most Ethical Companies for 13 consecutive years.   
Baker grew up in Minneapolis and attended Minneapolis West High School. He joined Ecolab in 1989, following seven years in brand management at Procter &  Gamble. At Ecolab, he held several marketing and general management roles in the U.S. and Europe before becoming president and chief executive officer in July 2004. In May 2006, Baker added chairman of the board to his duties. 
In addition to his Ecolab responsibilities, Baker serves on the board of directors of Target Corporation. He is trustee emeritus of the National Restaurant Association Educational Foundation and a member of the Committee Encouraging Corporate Philanthropy (CECP). 
Baker previously served on the board of directors of U.S. Bancorp, the executive committees of the Greater MSP Partnership and Minnesota Business Partnership, and on the board of overseers of the Carlson School of Management at the University of Minnesota. He also served as co-chair of the Dorothy Day Center Capital Campaign Committee, co-chair of the host committee for the 2018 Super Bowl in Minneapolis and served on the board of Parent Aware for School Readiness, a nonprofit organization to support the statewide expansion of Parent Aware, Minnesota's Quality Rating and Improvement System. 
Baker received a bachelor's degree in English from College of the Holy Cross in Worcester, Mass., and serves on the college's board of trustees.   
Ecolab is a trusted partner at nearly three million customer locations. With annual sales of $15 billion and 49,000 associates, Ecolab delivers comprehensive solutions, data-driven insights and on-site service to promote safe food, maintain clean environments, optimize water and energy use and improve operational efficiencies for customers in the food, healthcare, energy, hospitality and industrial markets in more than 170 countries around the world. www.ecolab.com.