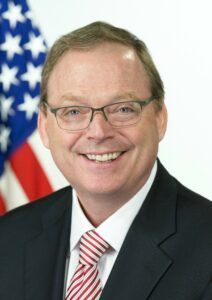 Kevin Hassett is currently Vice President and Managing Director of the Lindsey Group, a Distinguished Visiting Fellow at the Hoover Institution and a CNN Economics Commentator. In June 2019, he left the White House where he served as the 29th Chair of the Council of Economic Advisers.
Kevin previously served as research director at the American Enterprise Institute, as a senior economist at the Federal Reserve, and as a faculty member at Columbia University. Hassett was a senior adviser on Mitt Romney's 2012 campaign, and prior to that served as John McCain's chief economic adviser in the 2000 presidential primaries and an economic adviser to the campaigns of George W. Bush in the 2004 presidential election and McCain in the presidential election of 2008.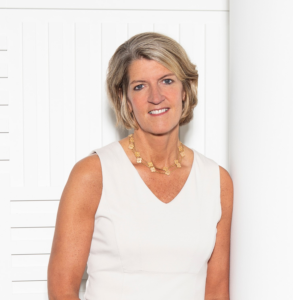 Beth Ford serves as President and CEO of Land O'Lakes, Inc., a Fortune 200 food production and agribusiness company that is also a nearly 100-year-old farmer-owned cooperative. Beth's 33-year career spans six industries at seven companies. Since joining Land O'Lakes in 2011, she has held a variety of roles leading the farmer-to-fork business offerings. Today, she is a passionate advocate on behalf of farmers and rural America with the goal of connecting people, particularly in urban areas, to the farmers and rural communities who grow their food.
A native of Sioux City, Iowa, Beth holds a bachelor's degree from Iowa State University and a master's degree in business from Columbia University Business School. She also sits on the Board of Directors for the Fortune 150 company PACCAR, Inc., and numerous other industry, non-profit and university boards.
Beth has recently been recognized by Fortune as one of the World's 50 Greatest Leaders and Most Powerful Women, was named to Fast Company's Most Productive People and Best Leaders lists, and was named one of Time magazine's "Firsts," among other honors.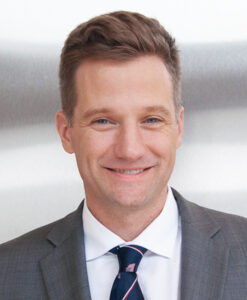 As commissioner of the state's principal workforce and economic development agency, Commissioner Grove brings a wealth of private sector and civic experience to the Department of Employment and Economic Development. Originally from Northfield, Minnesota, Commissioner Grove is focused on growing the state's workforce, closing the opportunity gap and providing businesses with the help they need to grow, stay and thrive.
Commissioner Grove was previously an executive at Google for 12 years, most recently serving as the founding director of Google's News Lab, a global division of the company that partners with media companies and startups to drive innovation in the news industry. He has built teams in over a dozen countries and launched partnerships in over 50 countries, including a global technology training effort that trained over 500,000 people every year. Grove also led Google's civic engagement work, including the company's non-partisan voter information and get-out-the-vote outreach efforts. He previously led YouTube's first news and politics team, building a global partnership effort for political candidates, news organizations, nonprofits, and citizen journalists. The divisions of Google that Grove led during his career addressed a wide range of public challenges with new solutions: from fighting online disinformation campaigns, to growing social media citizen engagement with world leaders, to a developing a broad range of voter turnout initiatives.
Grove wrote for The Boston Globe and ABC News prior to joining Google. He has served as an advisor to the White House and State Department on counter-terrorism strategy, and serves on the advisory boards of Witness, a video human rights nonprofit, and Report for America, a nationwide service organization to improve local news.
Commissioner Grove holds a master's in public policy from the Harvard Kennedy School and a B.A. in philosophy, politics, and economics from Claremont McKenna College. He is an International Security Fellow at the New America Foundation, and co-founded a nonprofit with his wife Mary called Silicon North Stars, which helps youth from underserved communities in Minnesota pursue careers in technology. In 2018, the Groves moved from Silicon Valley to Minneapolis, Minnesota with their two-year-old twins.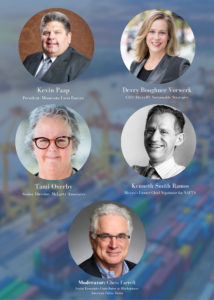 Free Trade Panel Discussion
Moderated by Chris Farrell, Marketplace, American Public Media
Expert Trade Panel:
Devry Boughner Vorwerk

, CEO, DevryBV Sustainable Strategies

Tami Overby

, Senior Director, McLarty Associates

Kevin Paap

, President, Minnesota Farm Bureau

Kenneth Smith Ramos

, Mexico's Former Chief Negotiator for NAFTA; Partner at AGON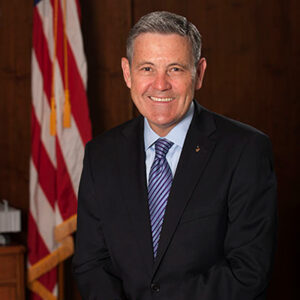 Robert D. Cabana is a former NASA astronaut, currently serving as director of NASA's John F. Kennedy Space Center in Florida. In his current role, Cabana manages all NASA facilities and activities at the spaceport, including the team of civil service and contractor employees who operate and support numerous space programs and projects. Born in Minneapolis, Minnesota, Cabana graduated from the U. S. Naval Academy in 1971 with a bachelor's degree in mathematics. He was commissioned a second lieutenant in the U.S. Marine Corps and completed Naval Flight Officer training in Pensacola in 1972. Cabana then served as an A-6 bombardier/navigator with Marine Air Wings in Cherry Point, North Carolina, and Iwakuni, Japan.
Returning to Pensacola in 1975, Cabana began pilot training and was designated a naval aviator in September of 1976, earning the Daughters of the American Revolution award as the top Marine to complete flight training that year. He graduated with distinction from the U.S. Naval Test Pilot School in 1981 and served in the Flight Systems Branch at the Naval Air Test Center until 1984. During his career, Cabana has logged over 7,000 hours in 50 different kinds of aircraft. Cabana was selected as an astronaut candidate in June 1985 and completed his initial astronaut training in July 1986. He was assigned to the Lyndon B. Johnson Space Center Astronaut Office, serving in a number of leadership positions, including lead astronaut in the Shuttle Avionics Integration Laboratory; Mission Control Spacecraft Communicator, famously known as CAPCOM; and chief of NASA's Astronaut Office.
A veteran of four spaceflights, Cabana has logged 38 days in space, serving as the pilot on STS-41 and STS-53 and mission commander on STS-65 and STS-88. His fourth flight was the first assembly mission of the International Space Station in December of 1998. Following his retirement as a colonel from the Marine Corps in September 2000, Cabana was appointed a member of the Federal Senior Executive Service. He served in numerous, challenging senior management positions at Johnson Space Center in Houston, ultimately becoming deputy director. In October 2007, Cabana was appointed director of NASA's John C. Stennis Space Center in Mississippi. A year later he was reassigned as the tenth director of the John F. Kennedy Space Center.
Cabana's many achievements have been recognized with induction into the Astronaut Hall of Fame and being named an Associate Fellow in the American Institute of Aeronautics and Astronautics and a Fellow in the Society of Experimental Test Pilots. He has received numerous personal awards and decorations, including the Distinguished Flying Cross, the Presidential Distinguished Rank Award, and the National Space Club Florida Committee's Dr. Kurt H. Debus Award.  He also is a recipient of the Rotary National Award for Space Achievement's National Space Trophy.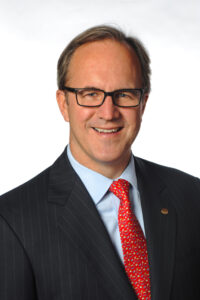 Doug Baker is chairman of the board and chief executive officer of Ecolab Inc., the global leader in water, hygiene and energy technologies and services that protect people and vital resources.
Ecolab recently ranked #2 on Newsweek's annual Green Rankings list, #8 on Corporate Responsibility's list of Best Corporate Citizens and #26 on Barron'slist of Most Sustainable Companies. The company regularly appears on Fortune's list of the World's Most Admired Companies and has been named to Ethisphere's list of the World's Most Ethical Companies for 13 consecutive years.   
Baker grew up in Minneapolis and attended Minneapolis West High School. He joined Ecolab in 1989, following seven years in brand management at Procter &  Gamble. At Ecolab, he held several marketing and general management roles in the U.S. and Europe before becoming president and chief executive officer in July 2004. In May 2006, Baker added chairman of the board to his duties. 
In addition to his Ecolab responsibilities, Baker serves on the board of directors of Target Corporation. He is trustee emeritus of the National Restaurant Association Educational Foundation and a member of the Committee Encouraging Corporate Philanthropy (CECP). 
Baker previously served on the board of directors of U.S. Bancorp, the executive committees of the Greater MSP Partnership and Minnesota Business Partnership, and on the board of overseers of the Carlson School of Management at the University of Minnesota. He also served as co-chair of the Dorothy Day Center Capital Campaign Committee, co-chair of the host committee for the 2018 Super Bowl in Minneapolis and served on the board of Parent Aware for School Readiness, a nonprofit organization to support the statewide expansion of Parent Aware, Minnesota's Quality Rating and Improvement System. 
Baker received a bachelor's degree in English from College of the Holy Cross in Worcester, Mass., and serves on the college's board of trustees.   
Ecolab is a trusted partner at nearly three million customer locations. With annual sales of $15 billion and 49,000 associates, Ecolab delivers comprehensive solutions, data-driven insights and on-site service to promote safe food, maintain clean environments, optimize water and energy use and improve operational efficiencies for customers in the food, healthcare, energy, hospitality and industrial markets in more than 170 countries around the world. www.ecolab.com.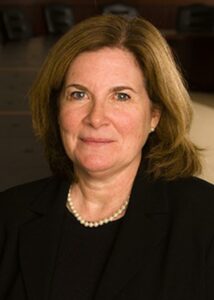 As CEO and president of the Kansas City Fed, George leads a workforce of more than 1,900 employees located at the Bank's Kansas City office and Branch offices in Denver, Oklahoma City and Omaha. The Kansas City Fed oversees seven states: western Missouri, Kansas, Nebraska, Oklahoma, Colorado, Wyoming and northern New Mexico. Throughout this region, the Kansas City Fed plays a role in national monetary policy, supervises financial institutions and provides payment and financial services to depository institutions and the U.S. Treasury.
George joined the Fed in 1982 and served much of her career in the Division of Supervision and Risk Management. She began by becoming a commissioned bank examiner and eventually served for ten years as the District's chief regulator. She was directly involved in the Tenth District's banking supervision and discount window lending activities during the banking crisis of the 1980s and post-9/11.
During the financial crisis, George served as the acting director of the Federal Reserve's Division of Banking Supervision and Regulation at the Board of Governors of the Federal Reserve System in Washington, D.C.  She currently serves as the executive sponsor of the Federal Reserve System's efforts to improve the U.S. payments system. 
George hosts the Federal Reserve Bank of Kansas City's annual Jackson Hole Economic Symposium. In 2019, she will be a voting member of the Federal Open Market Committee, which is responsible for setting U.S. monetary policy.
His Excellency Ron Dermer
Ron Dermer was born and raised in Miami Beach, Florida. He earned a degree in Finance and Management from the Wharton School of Business at the University of Pennsylvania and a degree in Philosophy, Politics and Economics (PPE) from Oxford University. For three years, he was a columnist for the Jerusalem Post. 
In 2004, Ron co-authored with Natan Sharansky the best-selling book, The Case For Democracy: The Power of Freedom to Overcome Tyranny and Terror, which has been translated into ten languages. From 2005-2008, Ron served as Israel's Minister of Economic Affairs in the United States.  From 2009-2013, he served as Senior Advisor to Prime Minister Benjamin Netanyahu. He became Israel's 18th Ambassador to the United States on September 30th, 2013.
He is married to Rhoda and has five children.